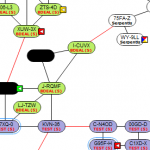 In the recent days you and I stumpeld across a strange rendering issue on the svg maps. Some systems are filled purely with black. Since the svg map rendering and xml layout hasn't been changed for the whole evemaps lifecycle.
After debugging the SVG and stripping it down, I could identify that there're some a:visited flags that are causing the current version of Chrome (16.0.912.63 m) to fill the system completely black.
UPDATE:
Atm I don't see a chance for a workaround. It seems to be buried deep in the SVG render code of webkit. In this case we've to wait for a Chrome Update or use Chrome15, Firefox, Opera or IE9 for the moment.
There's already a bug report out for chromium and webkit.