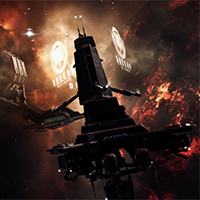 Hello fellow pilots. CCP Games has successfully deployed it's 'Aegis' expansion that includes the biggest sovereignty overhaul since the big 'Dominion' sovereignty change in 2009. A week ago CCP FoxFour release a dev blog description the new Sovereignty Structures and Sovereignty Campaigns CREST Endpoints that brings us the new shiny data. The first view on the amount of data was eye opening because I feared that CCP would have to revert back like they did in 2009. … but apparently it was discussed together with the CSM and every little information is visible in the client anyway. Well, lets see where this leads to.
It's been a long time without any update here, but well. Not much was going either apart from smaller fixes of typos. But lets get down the road what has changed on DOTLAN EveMaps, what new information is integrated and what additions I've still on my TO DO list (before or after my family vacation).
New Features on DOTLAN EveMaps
Here are some screenshot so you have an idea what it looks or where to find it, in the case you haven't seen it yet.
What else do I've in my mind?:
Add the Active Defense Multiplier as map overlay
Add the vulnerable state and start as map overlay (green = safe, orange = vulnerable, red = campaign)
Details and charts of the current score and the campaign progress
History of campaigns, etc
Add campaigns to the live ticker