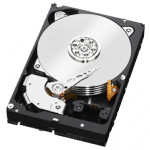 Failing hard drives aren't fun at all, but when you detect them early enough there's a good chance that the sword will pass you.
The latest failed/replaced drive in my server was in 2009 and thanks to raid1 nobody experienced any bigger outage. Now one of my very old drives starts to fail (I think after 6 years that's okay).  Luckily it's only one drive of the raid array for the host server and not the raid array where my VMs (evemaps included) are located.
But when I started thinking about what drives I should order to replace my old ones with, I started to think about the whole disk configuration. It's easy to replace some drives with new ones and be happy, but maybe it's worth taking some extra money and get some shiny drives with a dedicated raid controller (instead of using linux software raid) and add some ssd caching to squeeze out better IO performance to be ready for the future. Maybe this could help me to tackle my nightly IO performance issues as well when backups are being done. I've already tuned various bits and pieces, but as the data grows sometimes you just need bigger pipes to get everything done in time.
It's already nearly 3 years ago since I've done the last major hardware upgrade. In the mean time I've added a 2nd CPU to make use of all my ram modules (which didn't worked out, I should check this again).
My current idea would be to replace my system drive with new ones and move all VMs (evemaps included) on the new drive as well. The old 1tb sata drives should remain in the system for backups (rsnapshot) only.
2x 2TB WD SAS Drives (raid1)
1x 100GB Intel DC S3700 SSD
Dedicated Raid Controller with Cache + BBU/Flash + SSD Cache Option
An alternative could be (to avoid the HW Controller)
2x 2TB WD SATA Raid Edition Drives (raid1) or other vendor
2x 100GB Intel DC S3700 SSD
using software  for ssd caching (linux software module)
I'm still evaluating my possibilities, the deeper I look the more possibilities do I find. Sometimes i lean more towards a dedicated raid controller solution (from LSI) a bit later I find the software solution with ssd caching based on drivers like flashcache, enhanceIO, dm-cache, bcache, vcache, etc more flexible. Hard to say which suits better.
Any recommendations/thoughts?
As you can imagine a good configuration isn't cheap. If you like the evemaps service, feel free to check the donation link on the right side, every cent helps me.